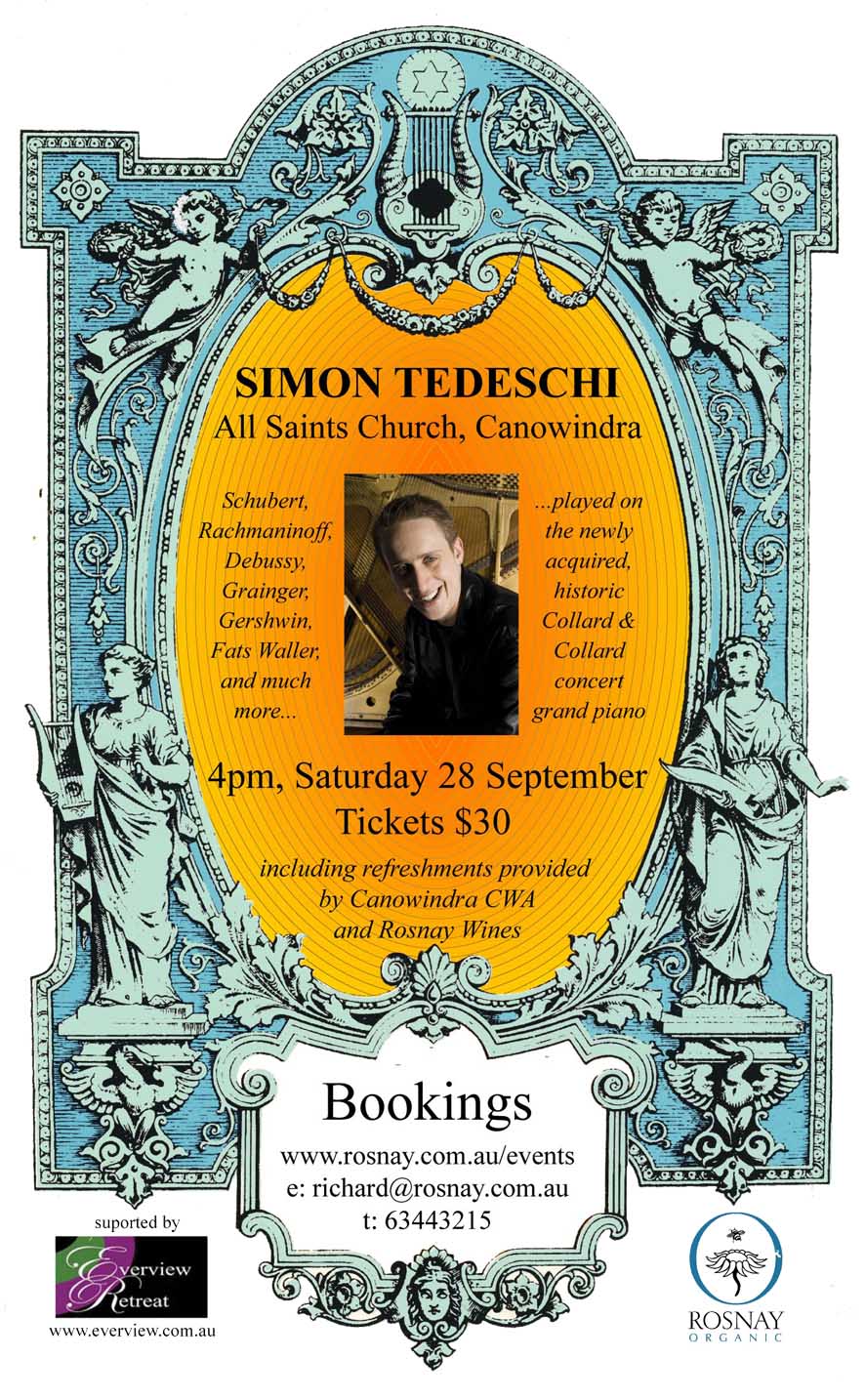 Simon Tedeschi,  the top Australian international concert pianist is booked to play in Canowindra on Saturday 28th September 2013.
Richard Statham met him at Orange recently when Simon  was  playing a grand piano duo with his good mate Kevin Hunt. They met about ten years ago when Simon had won the Sydney International Piano Competition and was reaching the top of his tree as a classical performer. Kevin is a jazz pianist and a regular accompanist for the legendary Don Burrows. They have travelled together for months in Argentina composing and performing.  Simon and Kevin, who developed their playing skills via totally different genres hit it off from their first encounter and have since come to call their collaboration, "I Wanna be Able to Play Like Him"! Seeing them playing together and talking about their unique union, and despite their 19 years age difference, you get the  sense  of their extreme symbiosis.
Tedeschi on this occasion will be playing solo from a whole range of composers including Schubert, Rachmaninoff, Debussy, Grainger, Gershwin, Fats Waller and much more. He is a wonderful communicator and raconteur so a great occasion is assured for all who come to this 4 pm event at All Saints' Church, Belmore Street Canowindra. He is keen to play the recently acquired 8 foot Collard & Collard concert grand piano, which was built in England in 1956 for Isadore Goodman, the South African born, then director of piano studies at Sydney Conservatorium of Music.
Tickets, including a splendid late afternoon tea (supplied by Canowindra CWA) and a Rosnay wine tasting , are $30 and bookings can be made via the Rosnay website or by contacting me, Richard on 0429443215 or email richard@rosnay.com.au.
Bookings are essential so the CWA can know numbers for catering.
Share this event and get more info via Google Calendar