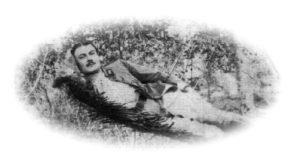 The Statham family – Richard and Florence and their sons and Florence's parents – moved to Canowindra, in the NSW Central West, in 1996, and today we grow wine grapes (20ha), olives (10ha) and figs (1/2ha). Sloping gently north towards the Belubula River, our "patch" had the ideal deep red water-holding clay soils and reliable continental climate and water for the vines, orchards and olives that we planted over the next decade. We did a farm plan, cleaned up the gullies and old fences, dug 140 soil mapping pits, and planted alleyways of native trees. Using organic, "bio-ag", cell grazing, Yeomans and biodynamic methods, we began reviving the soil organic matter and ecosystem. We called the farm "Rosnay", after Florence's mother's maiden name, Dolly Dulong de Rosnay, and we is now part of a small group of organic growers called Rivers Road Organic Farms, under community title.
However the Rosnay story begins a long way away – France in the early 1900's – in the vineyard of Florence Statham's grandfather, Albéric Dulong de Rosnay. His vines were at 'Cogny', in the Beaujolais, 30km North West of Lyon. Albéric tried to keep up with the reputation of this "third river of Lyon" as Beaujolais wine was called. They also kept beehives, a vegetable garden and baked their bread in an outdoor bread oven. In 2013 a Reserve Red was named "Grandpere" after Alberic.
Until her passing in 2013, Alberic's daughter, and Florence's mother Dolly also lived on what is now "Rosnay" in Australia. Grandmother of 9, former fashion designer and rally driver in France, Dolly was an amazing character, always full of positive enthusiasm and of advice about how we should grow the vines like her father did! In 2014 a first Reserve White was named "Grandmere" after Dolly.
Florence was born in 1946 at Lyon, France, and migrated to Australia in the early 1970s, when she married a farmer, Richard Statham. They raised three sons, Sam, Nick and Oliver. Florence is at the centre of the Rosnay team, giving Rosnay products their unique flavours and labels. As an artist, she uses watercolour, pastels, thin oil layers and glazing effects, as well as line drawing to share the beauty of the crops and landscapes, the colourful wildlife, the flowing river.
In 2015 Florence finished "Dear Dolly", a history of her family culminating in her mother Dolly's amazing life in France and Australia. 
The organic farming began with Richard's father Clive Statham, a doctor and dermatologist, who was an avid organic gardener. His enthusiasm for natural growing rubbed off on Richard and Richard's own children. Clive would make huge compost heaps which were the fertility engines for his large gardens. Clive was also a great lover of native plants and animals, and he even built a mud brick house. Richard was born in 1946 in Sydney, and spent most of his working life in Australian rural industries. He studied agriculture at Marcus Oldham agricultural college, jackerood on pioneering irrigation projects in the Ord River, served in Papua New Guinea, did a Commerce Degree, and in 1980 to 1995 he and Florence grew fine wool at Barraba in northern NSW.
In 1995 Richard and Florence decided to move to a region with better soils, irrigation and a reliable climate for a new venture. Their sons Sam, Nick and Oli are variously involved, helping to run the farm and building straw bale houses. Sam worked as a farm auditor for an organic certifier and has been an active member of the organic industry. He and his brother Nick built a straw bale house, where Sam now lives with his wife Simone and their daughters Molly and Georgia and son Floyd. Nick now lives in Perth. Oli is involved part time in the farm work and events.
In 2012 we won the inaugural NSW Organic Pioneers Award which allowed Sam, Simone and their children to visit France in 2013, and study organic wine. Seeing well managed organic vineyards, tasting many organic wines, and above all meeting cousins who still make natural wines in their garages and micro wineries, proved to be a turning point for us. In 2014 we began replanting vineyards with heat loving mediterranean varieties, and we made our first wine on site with Sam as chief "Garage Winemaker" with the help of many friends and local winemaking enthusiasts.