Rosnay has been moving toward ecologically friendly packaging since 2009 when we first began to use the 370g "Lean + Green" Australian made wine bottles.
Even so, we have always felt that the conventional packaging of wine leaves much to be desired. The recycling rate for glass bottles in Australia is still only 40%, according to Clean Up Australia.
One business that we always admired was The Returnable Wine Bottle, where Sydney bottle shops would sell wine in returnable bottles, charging a deposit, then returning the empties to Anthony to refill and reuse. In Melbourne this concept has been applied for many years by Swords. The concept was harder to sell in Sydney and following many years of low margins Anthony eventually decided to open a bottle shop in Canberra implementing the same systems. In 2012, his bottle shop, Plonk, was awarded as the Best Bottle Shop in Australia by Beer and Brewer Magazine.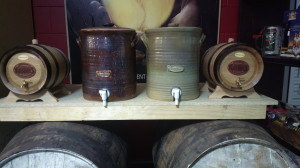 Last weekend, we launched a variation of the Returnable Wine Bottle in Anthony's store. In this case, rather than returning the wine bottle to the supplier, the consumer simply refills their own bottle in the store from a 15 litre metallised plastic bladder (aka "bag in box"). That means with each cask we avoid using 20 x 750ml bottles, and even if these were "Lean + Green" bottles, each of which still contains 493g of embedded carbon emissions, that's 10kg of CO2 emissions saved per cask. In this picture you can see two clay pots – the light one contains Rosnay 2012 Semillon, the other dark one contains Rosnay 2012 Shiraz. The concept is already taking root among Anthony's customers, who are already accustomed to refilling beer, port and whisky in his store.
Other stores have already signed up to do the same thing, including Taste Canowindra in our home town and Art Eco Raw Wines in Mansfield, Victoria. Even without the customised clay pots, the cartons are beautifully designed with printed wood grain and old style cask design, and are aimed at being used as is for in store refilling stations.
You may be wondering about the health and safety regulations for an in store refilling station. Well we cant speak for all areas as it is a local government domain. So far all of our Refill Stations are in stores that already have food safety inspections and there have not been any additional regulations.
Shelf life is not a problem either, six months is generally fine given the higher oxygen permability of the metallised, BPA free plastic bladders.
If you would like to try it out in your store, or if you would like to order a carton for your cafe, restaurant, club, function or even a good old bottling party, please contact us or place an order online.