Cellar Door
[WE ARE SORRY BUT THE CELLAR DOOR IS NOW CLOSED UNTIL FURTHER NOTICE]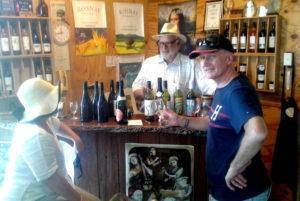 While you are in the area… why not drop in?
Its been 2 decades since the Statham family first planted winegrapes, olives and figs near the historic village of Canowindra, less than an hour's drive from Orange. In that time the certified organic farm, named "Rosnay", has been awarded the NSW Organic Pioneers Award, Organic Wine of the Year, and most recently, Star Cellar Door of the Cowra wine region in The Gourmet Traveller.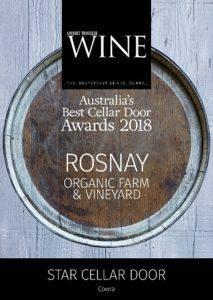 For locals and visitors to the region, Rosnay is definitely worth a visit as part of a day trip to Canowindra, or as the base of a weekend visit, staying at the Rosnay Farmstay. At different times you can experience the harvest of organic figs (January), grapes (February-March) and olives (May-June), and even pick your own to make your own preserves, wine or table olives.
Or at any time of year, you can taste a range of delicious fig and olive products as well as award winning organic wines in many different styles. The Stathams have been making many of their wines on site for the last 5 years. Back in Canowindra, there's plenty of other things to see and do, including museums, art galleries, markets, concerts, and of course balloon flights.
For a farm visit, you need to email or call the Stathams to make an appointment. This may seem inconvenient but it means you get to experience the farm and its products with the growers themselves, who will make time to give you their undivided attention. Larger groups are welcome, from tour coaches to engagement parties, with lunch being an optional extra via some great local caterers.
For a weekend visit, the Farmstay is in the restored 1910 farm house built of solid block typical of the era, and is exclusively rented for 2 nights minimum, for up to 6 persons, and can be booked online via the Rosnay website. The farm is kid friendly, with pet chooks, sheep and a even a pig to make friends with.