Published in Organic News, Winter 2013, NSW Department of Primary Industries
by Sam Statham, Rosnay Organic Wines, Canowindra, NSW
I have been growing organic grapes for over a decade, as well as other crops, and in 2012 I was the lucky winner of a study prize to improve my knowledge and business by going overseas. The award was the Inaugural NSW Organic Pioneers Award presented by the NSW Department of Primary Industries and industry sponsors.
As my mother is French and as I have cousins there, including some in the wine industry, I decided to go to France, and booked a trip for myself, my wife Simone and our three kids, with the funds from the award. Once we got there, we had accommodation sorted in a tiny village near Limoux, in the Pyrenees (famous for its sparkling that pre-dates Champagne), and we had a car lined up. Not much else had been organised.
Having spent one year in university in France 20 years ago almost, I knew that there was some good wine in the Languedoc region, which shares a similar hot, dry and sometimes extreme climate as we love in Australia, but which is challenging for making good wine, especially organic wine. However, thanks to the heat and low humidity, the region is also the home of most of the country's organic and biodynamic wine producers.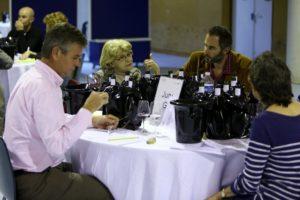 Before going, I had contact with an association of over 200 certified organic Languedoc growers known as SudVinBio, and was lucky to be offered a position of associate judge in Signature Bio, their annual wine show, which is normally only for trade and media, on the coast near Narbonne. We drove down via some back roads and cathar castles, and stayed in an almost empty motel. The wine show was much bigger than its equivalent run by Max Allen in Australia, especially in the number of judges, probably over 50 of us. I met the renowned British master of wine and specialist in the Languedoc, Rosemary George, oenologists, somelliers and trade. I also got to taste some great organic wines made from old varieties that I later traced back to the vineyards where they were grown as the basis of my research.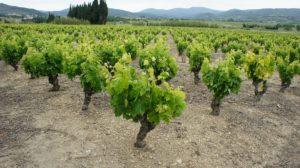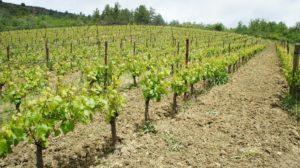 I am writing this report over 2 weeks after getting back, and despite having tried to start even whilst over there, its been hard to know where to start, as my brain was over saturated with information. Now that the dust has settled, I think I can narrow it down to a few main points, which now of course seem obvious anyway.
The Languedoc wine region is in a state of change. It is a large region with many appellations but in general it has been known as a production focused region, pumping out megalitres of high yielding but poor quality "working class" wine, grown with chemicals and high yielding varieties, and made through wine cooperatives which had no means of forcing growers to improve quality. Rumour has it that before the loss of the North African French colonies, especially Algeria, the watery cooperative wine was often blended with stronger African wine and sold as French.
Times changed and the New World began to grow better wine, and compete globally. Many Aussie winemakers went to Languedoc and helped develop Aussie style vineyards with wider rows and mechanisation, and new varieties like Merlot and Chardonnay, which have widely replaced the traditional southern varieties. Old vineyards were pulled out, with government subsidies, and lots have been replanted with subsidies of up to €12,000 a hectare. Even so, the area planted halved from 1980 until today, with some saying it could halve again. The wine cooperatives have already closed in many villages, and grape growers are getting old and live in relative poverty.
Whilst Merlot, Cabernet Sauvignon and Chardonnay are still largely grown for cooperatives, many boutique wineries are reviving the old varieties. Most of the best organic wines in the wine show were from old varieties including Carignan, Cinsault, and Mourvedre, which are drought resistant and late ripening with better acid retention than Shiraz and Cabernet. For example, the natural acidity of a 10% Carignan blend can make all the difference to an overripe shiraz with too little acidity.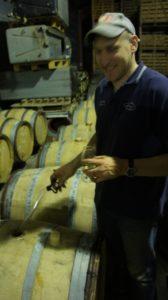 The "revivers" are not just the old established local wineries, but Brits, Irish, Belgians, and Australians, setting up boutique wineries and making fantastic wines from old varieties, generally with organic and biodynamic methods, always with lots of history and stories behind them, and sometimes with some great looking labels and coming from completely different backgrounds. For example, the nearest organic winemaker to our village was Frank Schisano at Saint Hilaire, who is a former international rugby player now following his second passion and loving the potential of the region. I was also amazed how many English speakers, especially Brits, were in the judging panel at Signature Bio wine show as well, many of them trading organic wines, showing how international the drivers have become.
On the subject of foreign ownership, whilst the farms around here at Canowindra are being bought by Middle Eastern oil sheiks, and whilst the Chinese are buying up most of the best wineries in Bordeaux and Burgundy just for the prestige, I thought how the locals could think themselves lucky to have such genuine and active investors in the local economy.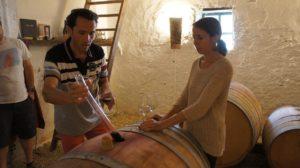 Anyway, being averse to spending too much time with Anglos when visiting France, I wanted to visit the locals first, but I discovered that spring is not a good time if you want to meet them, as they are so busy. So it was lucky I had my cousins over there, in particular the cousin of my cousin, and his wife, Stéphane Yerle and Cécile Garidou, who spent half a day with me. Living in a village near Beziers, in the heart of the Languedoc region, they have been buying up small parcels of old vines (Carignan, Grenache, and Shiraz) around their village, and converting them to organic.
They are both professionals – Stéphane is a winery engineer and consultant and has seen plenty of wineries, and Cécile is a food safety scientist. They began to build their own winery about five years ago, and called it Pueche Auriole. Now with 11 hectares of vines, they are nearly ready to dedicate themselves entirely to their new venture. The vinery itself is in the shed next to their village house, and is delightfully simple, considering he is an engineer. Not much equipment at all to be seen. They use a milk chilling tank and piped water to cool the wines during their open ferment, they basket press, they mature their reds in large oak barrels (500 litre) for 6 months before blending and settling them in stainless tanks for 3 months, then bottling them unfiltered and on site with a mobile bottler.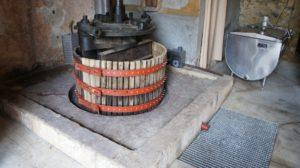 The Pueche Auriole 2011 red won a gold medal at Signature Bio, and it's a fantastic wine, exported to 8 countries or more, and still not promoted on the local market. The barrel room tasting was even better, especially the Shiraz Carignan, but it was the unwooded 2012 red that that was most impressive to me. Called "Gros Grains" in reference to the large seeded traditional varieties it is made from, it is the young, easy drinking wine that is less expensive but deliciously quaffable; Aramon and Cinsault for their juicy fruit flavours, and Carignan and Grenache for their palate weight and density.
According to Stéphane, the secret is simple – total attention to acidity and oxygen when making wine in a hot region, and also the use of old Languedocian varieties that do so well in the local soil and climate. The result is aromatic, approachable wines that are both fruity and dense, drink well now but also age well.
In the vineyard, Stéphane began as a sceptic but soon saw enough organic vineyards to have confidence to go organic himself. He could see that living soil is giving better results for many of his clients, and also that there are more and more disease management options out there. One example, is "Allo Therapy", in which a vine is kind of "vaccinated" against mildew by having a "dumbed down" culture of mildew sprayed onto it to stimulate an immune response. I had not heard of that in Australia. It's a bit like bio-dynamics, but the opposite at the same time. Of course, I reckon they still rely on sulfur, often powdered form, as much as we do in Australia.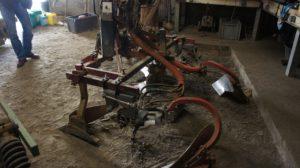 In France there are also good incentives to go organic, subsidies which were as high as 40% in recent years. So Stéphane's undervine weeding machine was subsidised with a cheque from the EU for 40% of its cost. Well, we don't have that it Australia but I don't hold it against any producer to grab the subsidy and go organic!
Using the cultivator he gets good weed control with 4 or 5 or perhaps more tillages, but in Australia our soils are far too old, powdery and fragile for us to do that. The Languedoc landscape and soils are not as old as ours, and when it is rich in gravel and newly decomposed rock, it seems more able to withstand the rotary hoe than our 300 million year old Aussie soil. As far as weed control goes, I think we will be sticking to the high vine and summer grazing plan, but perhaps remain open minded about the odd cultivation to control perennial or invasive weeds. I guess we have the advantage of plenty of local sheep being around our vineyard, whereas in France you rarely see fences, let along livestock, except up in the mountains. So it could be harder to set up. But on with the story…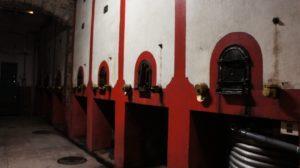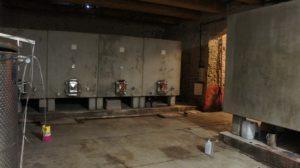 After visiting Stéphane and Cirile, we had a huge gathering of my cousins and their kids, and there we enjoyed some pretty special wine made by my cousin Sebastian, who makes a tonne or so of "garage wine" every year from his own small plot of wines. Once again, there was inspiration in what can be done with very little technology, just the spirit of having a go.
But it was another medal winning wine from Signature Bio that broke the record for me, in terms of simple wine making. I noticed it was not far from where we were staying, Lagrasse in the Corbieres, in the hot Pyrenees mountains foothills. The 2011 Pech Latt Red won Gold with Special Mention (i.e. wine of the show) at Signature Bio last year, and I tasted the Pech Latt 2012 Red blind at this year's wine show, and it was also one of my favourites. The winery only makes one red wine, which is a blend of its traditional varieties grown on its 108 hectare vineyard of Carignan 38%, Syrah 26%, Grenache 21%, and Mourvedre 15%, besides a relatively small amount of prestige "old vine" red and "barrel aged" red and one white blend.
The hand picked fruit is fermented and matured in massive concrete tanks. These are used for both fermentation and maturation. And there was a heat exchange unit there, but it was tiny compared to the units you see here in Australia; so, minimal temperature control. Most of the tanks were old, cast on site and huge (25,000 litres or more). The new tanks were pre-cast in France and had to be installed with a crane. I saw one tank with wine in it sitting at 20 degrees C, with no temperature control. They say that the wine ages well in concrete, and whilst many disagree in Australia (land of the computer controlled stainless tank farm), the Pech Latt wine speaks for itself. The wine is almost all sold before bottling. I was able to purchase some 2011 red because it had been allocated to a buyer who never bought it, so half a pallet was available for sale.
The vines have been treated organically for nearly 2 decades; they are grown without irrigation on shaley rocky soil, and kept mostly kept free of weeds through cultivation. Between the blocks are patches of aromatic, scrawny looking bush called Garrigue, a typical Languedocian buffer of biodiversity including wild thyme, sage, rosemary etc, plus wild fruit trees and shrubs. Without having met the manager personally, I reckoned that the vines planted 1m or so apart in 2 metre rows, were cultivated half a dozen times per year to control the weeds. Even so, the soil was soft underfoot and sweet smelling, seemingly healthy and certainly so in comparison to other "chemically cultivated" conventional vineyards I saw everywhere.
After visiting I heard that the Chateau is actually owned by the Burgundy based wine company Louis Max Corp., and I thought how funny it was that a winery from France's most prestigious region which bought the old vines in the relatively un-prestigious South, now sells its wines before bottling. Perhaps it says something about the true value of the old varieties that are now being pulled out.
Whilst my cousins and Pech Latt are preserving the old varieties, there are other vignerons who are going further and sourcing even older varieties from university and government collections which date back to before Phylloxera in the 19th century. A wine trader at Signature Bio said to go to Clos Centeilles, on the Minervois side of the Aude valley. Patricia Domergue runs the vineyard and winery herself, with the help of her daughter and an intern. The vineyard was planted by herself and her late husband, to several old varieties including Picpoul and Oillade Noir (both Cinsault family), Terret Noir and Riberenc. She makes a delicious 100% Cinsault, "the Pinot of the South" and also an elegant 100% Carignan made with carbonic maceration. It was interesting to see someone age wine 2-3 years in steel tanks, with an underground tank for draining the wine into, this repeated 4 times a year to keep it moving and clean up the lees.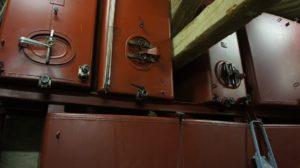 When I asked Patricia what she would suggest for a late variety with good acid for warm climate red wine blends, she suggested Petit Verdot. Maybe… and for Chardonnay blending? Vermentino.  Hmmm… I still like the Languedoc varieties, but I am just not sure if you can get them in Australia.
We spent most of our time in the region fairly close to our village. With just 200 people in the foothills of the Pyrenees, on the boundary of the vineyard and forestry areas, it was a delightful place with very friendly locals. The vignerons are quick to ask if you are looking for a vineyard to buy! And it is in this region, just south of Limoux, that Bernard Delmas, one of the pioneers of organic farming in France, has his 30 hectare vineyard, specialising in sparkling wine, as well as some delicious Pinot Noir and barrel fermented table chardonnay. Quite a lot higher in the Aude Valley, the vineyards are perched on picturesque forest rimmed hillsides around the village that houses his newly expanded winery.
As a pioneering organic grower Bernard has been president of the French national organic body "back in the early days" and a founder of the organic vignerons association that had been helping me. Almost 30 years later he can see the expansion of organic wine production, and just hopes that the consumer recognition, and therefore markets for the product, will grow equally, to avoid disappointment on the part of newcomers. With his well established brand, he is relatively secure in his markets, but without a large marketing organisation behind him he is probably feeling the local wine market contract as much as anybody.
There were a couple of other vineyards and wineries we visited, but with similar messages; and like most messages for success, they are easier said than done. Obviously, changing varieties would be nice, but expensive. Setting up a small winery in our olive shed is more appealing than ever, but again, small steps. A bit more government support would help grow production here in Australia, but also, the consumer needs to come on board and seek out the organic stuff, or it will just collect dust in the bottle shop. We need a strong organic wine movement driven not by the producers so much as the trade and wine lovers – like the Signature Bio wine show. We need more support for young farmers to have a go – in France its 20% subsidy on new investments. And we need support generally for small producers, so that they can be viable enough to try the new ideas that come from an adventure like this!
Perhaps the greatest lesson was that there is no silver bullet, and surviving in agriculture is difficult no matter what industry you are in. You just need to know where you want to be, keep working hard to get there, and try to enjoy the ride.
I would like to acknowledge and thank the NSW DPI and all involved in running and sponsoring the award which has made this trip possible. I would be more than happy to answer any questions you may have and even cooperate on work that could emerge from these ideas.
Vignerons visited
For more information contact Sam Statham, Rosnay Wines: sam@rosnay.com.au
Web: http://rosnay.com.au/