AWASE MISO is an improvisational cooking performance with music, movement and story telling of miso soup. Miso is a seasoning made of fermented soybeans. Awase is to combine and mix.
By sharing the ritual of cooking miso soup, a deeply rooted and emotional tradition often passed on from mothers to daughters in Japan, the artists and audience explore synthesis of memories of family and love through preparation of soup, songs and rhymes of giving and nourishing.
First performed as part of Sound Bites #20 – Sound Bites Body 2, curated by its founder WeiZen Ho and presented at Modern Art Project's WEST, an independent artist-run project space in the Blue Mountains, AWASE MISO is now sponsored by Rosnay Organic Farms and will be presented at the All Saints' Anglican Church in Canowindra.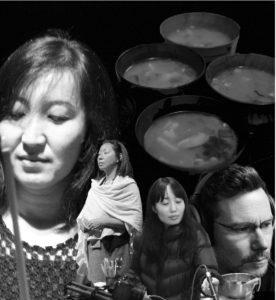 Terumi Narushima is a composer, performer and sound designer whose work has been presented at numerous festivals in Australia and overseas, as well as broadcast on national radio and television. As a composer, she writes acoustic and electronic music with a particular focus on microtonal tuning systems. Some of her microtonal projects include: Tritriadic Chimes, Metris and Hidden Sidetracks. Currently she is working on a commission for Synergy percussion group's 40under40 project. As a performer, she plays mainly keyboard instruments, and has also studied koto. She is a core member of Clocks and Clouds with Kraig Grady. Terumi was involved as a sound designer in Ten Trenches and as the sound designer, composer and live musician on Yasukichi Murakami: Through a Distant Lens. Terumi is a lecturer in Music at the University of Wollongong.
Mayu Kanamori is a Sydney based storyteller, working across mediums including theatre, performance, photography, installation, writing and documentary making. Her arts practice involves collaborations with artists from different genres and in engagement with the variety of communities at all stages of a project, utilizing her skills as interviewer, audio-visual documenter, writer and producer. As writer and creator, her major performance works include The Heart of the Journey, CHIKA: A Documentary Performance, In Repose and Yasukichi Murakami – Through a Distant Lens. As arts producer Mayu has facilitated Canowindra High School's Our Story project in 2006 and the 2013 – 2014 Cowra Canowindra Civilian Internment Arts Project in conjunction with the Civilian Internment Symposium during the Cowra Festival of International Understanding.
Arisa Yura has worked extensively as an actress, movement and voice artist, and performance-maker in Australia, Japan and Canada. Her theatre credits include: Nippon Memories,Rival of Men with Marshmallow Wave,Teen Dream, world premiere of Justin Fleming's His Mother's Voice with bAKEHOUSE Theatre Company (ATYP select), and most recently, she played the lead role of Mayu in Yasukichi Murakami: Through A Distance Lens written by Mayu Kanamori (Griffin Theatre Company 2015 season). This production has also toured to Darwin Festival, Shinju Matsuri Festival (Broome) and OzAsia Festival (Adelaide) in 2014.
Alex Salter AKA Grey Area is a screen composer, electronic musician living in Katoomba NSW. His Music career spans more than 2 decades with credits on international series and commercials for radio and television. He is the mastermind behind the GAS production music library, composing and publishing hit tunes in over 40 countries, finding its way into productions such as Australian Story, The 7.30 report, The Voice and Master Chef. His advertising music credits include American Express, Cadbury, Card, Medibank and Target. Alex's electronic music project Grey Area has performed at large festivals in the UK, Europe and Australia with 4 album releases to date including And The Then Clouds on Waveform Records.
DATE & TIME: 10 Oct (Sat) 6:30pm – 8:00pm
VENUE: All Saints' Anglican Church, Belmore St, Canowindra
TICKETS @DOOR: $25 General Admission; $15 Concession
EARLY BIRD BOOKINGS: $20 General Admission; $15 Concession + booking fees
EVENTBRITE: http://bit.ly/1gvWla6