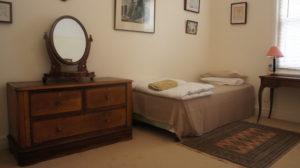 As you may have noticed, we have had our online booking for the cottage disabled while we have been making some major changes to our accommodation offering. Now that Oli is back on the farm, he has moved into the cottage and the original farm house, which is semi detached from Richard and Florence's house, has been renovated and set up as a Farmstay for up to five persons, plus a folding couch for extras.
Find our more on our Rosnay Farmstay page
The Farmstay is bookable from several online booking systems including Expedia, Wotif, hotels.com, Cowra Visitors Centre, Getaroom, and can be reviewed on Tripadvisor and Stayz.
To book direct with us click here or simply email orders@rosnay.com.au or call Sam on 0428667317.
---
PS – We'd also like to welcome Suzie to the local B&B scene with her amazing creation at Grantham House, in town. We wish her all the best – and recommend her highly!