Claiming the title as 'Patriach' of Rosnay might imply that I was the founder. Well I was, but with Florence and Sam, we have been a team since day one in 1995. We had been woolgrowers since 1980 and by 1991 Australian wool had become unsaleable to the main markets of USSR and China. Would you believe they then had no hard currency with which to pay for it! For more than a century wool exports annually had far exeeded the combined value coal and iron ore. I had been a NSW Farmers Association delegate to the Wool Council of Australia with regular meetings throughout the country, gaining a very clear view of the current state of, and outlook for the industry. So we quit our role in the wool industry, sold the farm and embarked on producing another soon to be globally oversupplied commodity, wine-grapes and in due course, wine!
Flo and I, both now 77 feel extremely fortunate and thankful that Sam has stayed with us, and without any formal handover he has progressively taken over the reins of Rosnay's daily operations, general management and business development. It has been an organic process befitting the whole ethos of our now diversified and vertically integrated family farm. Sam, after looking over the shoulder of contract winemakers for neigh on two decades, felt the urge to try making a few barrels of wine himself, without any major investment in wine making gear. Well one or two of his small batches won medals at wine shows so we asked ourselves, "then why are we paying winemakers?"
Jan and Graham Kerr from Tom's Waterhole Wines had become more focused on their hot-air ballooning business so in 2017 we purchased most of their wine-making equipment, imported some glycol cooled stainless steel fermentation vats and other essential items , and Sam set to with us as willing cellar hands, to make more, in fact very soon, all of our wines. Of course by then our olive processing, olive oil and fig enterprises were already well established.The icing on the cake has been the straw-bale cellar door we finished building about a year ago, just in time for the closing Baroquefest concert with a sit down dinner for sixty accompanied by cornetto, theorbo, chamber organ and a soprano voice. What an opening, what a venue!
There were four generations of our family living on the farm until Flo's mother Dolly (the French Matriach) died aged 95 in 2013. We now contemplate our own dotage surrounded by the love of Sam, Simone and their three now teenage children, plus Oli, Sabrina and their charming almost three year old boy Joe. The lucky things are going to Italy soon for six months to be close to Sabrina's family near Milan. Oli and I demolished two old farm houses at Molong during 2021, salvaging all the timbers which we subsequently used in building the new straw-bale celler door. The exposed timbers, including the shelves purposely built around the Australian made 1910 Beale piano give the building great warmth and character.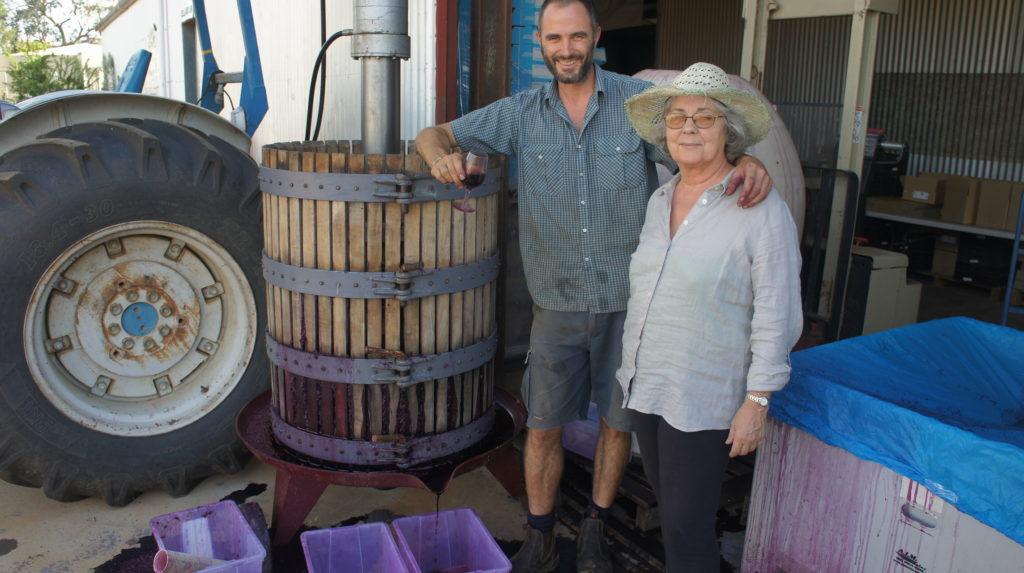 We discovered during the demolition that those two houses had a very interesting history. They had in fact been moved many years before from an infamous neighbouring property Fairbridge Farms. Fairbridge was established during the inter war years as an orphanage for underprivilaged English migrant boys and girls, with the aim of supplying the region with young skilled farm workers and housemaids. A public inquiry about child abuse there in the 1970s led to its closure and condemnation of the managing body. Former Managing Director of the ABC, David Hill who had been an inmate there wrote a book in 2008 "The Forgotten Children".about that very sad history.
A few years earlier Oli and I had done another demolition job on a deconsecrated wooden church near Grenfell, likewise to salvage precious old timbers. We used them to build an open-fronted camp kitchen and bathroom at a glamping site overlooking a dam in the olive grove. There are always a few families of wood ducks and a couple of Muskovy ducks gone wild, have also adopted it as their home. Together with a permanent powered bell tent on duck boards, it is a very romantic camp site for paying guests.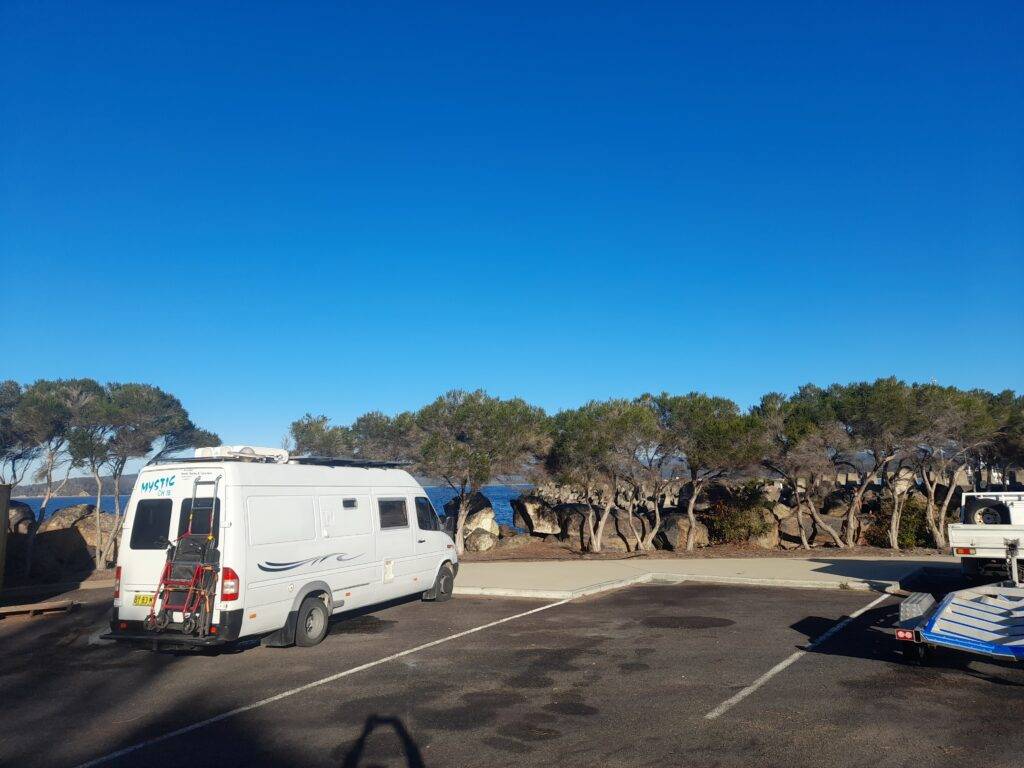 A few months ago Flo and I purchased a 20 year old Mercedes Sprinter long wheel base campervan. We have owned a succession of camping trailers and caravans over the years but this one takes the cake. With the roof covered in solar panels and with two house batteries, we can run the 12 volt fridge/freezer and a hot water system without ever needing to go to a caravan park to plug it in. At our age, the shower and aircraft type toilet are indispensable. After an equally enjoyable 2 week road trip down the south coast to Eden and Twofold Bay, we have recently done a great trip via Scone and Barrington Tops to Gloucester, the mid north coast to Port Macquarie, then home via Walcha (visiting old friends Andrew and Wainie Robertson), then Thunderbolts Way back to Gloucester, Denman, the Bylong Valley, Rylstone and home. Some exceptionally charming old villages and stunning wilderness. We don't envy grey nomads who buy megavans and spend a year, often longer on the road before resuming a life in suburbia or a retirement village. We are always ready, indeed keen to come home to Rosnay, our family and the RROF (Rivers Road Organic Farms) community.
Perhaps I should add here how RROF came about. In 1995 when we sold the farm at Barraba, it had been our intention to form a company with three old friends, successful professionals in surgery, the law and economics. For them it would have been a tax dodge! There was no contract, just an after dinner handshake whereby we all agreed to establish jointly, a vineyard. They duly got their fingers burnt in a property development venture they had embarked upon, so they failed to come up with the few million dollars needed to create together the object of our collective pipe-dream! At the time in 1995 when we purchased the farm at Canowindra assuming the guys would be coming on board, Sam had crewed on a small steel ketch skippered by a Dutchman to New Zealand and was working on an organic vineyard on the south island. By fax, when we told him about the funding dilemma, he suggested doing a community title subdivision and sell off some blocks under an organic covenant. Following a few years negotiating with Cowra Council and doing detailed soil surveys with a consultant, we advertised 20 to 25 acre farm blocks for sale, each with a half acre building entitlement and respective shares (unit entitlements) in the sophisticated irrigation system we had installed with enough capacity to irrigate all the blocks.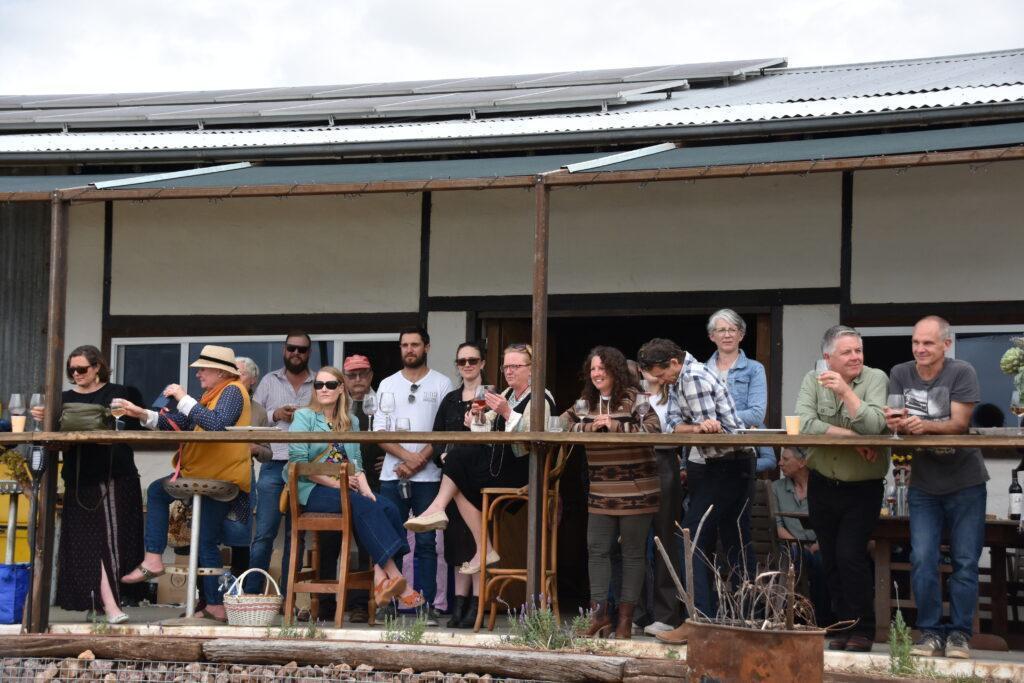 25 years later, there are eleven houses, most of which are built in straw-bale and a great community of like minded people from diverse backgrounds. The straw-bale building consultants were John and Susan from Huff and Puff Constructions at Ganmain. They had built so many straw-bale dwellings we labeled them "The Duke and Duchess of Ganmain". Individual and co-operative enterprises have evolved including vineyards, winery, cellar door, olives, figs, farm forrestry, sheep and poultry grazing (farm to plate), farm stay, glamping, live music/concerts and more.
Still having a role in day to day activities on the farm is the best way to "retire". When cellar door customers ask, "why don't you retire to the coast?", I reply that I still enjoy nothing more than tractor driving, building and fixing things. We do have an old shack at Umina Beach where we frequently went for a break but it seems to have been eclipsed by the Mercedes campervan. I don't play golf or bridge or feel the need to frequent pubs and clubs more than ocasionally. Why would I when the most appealing bar is right here at the cellar door?! We did visit a most impressive mens' shed, doubling as an excellent museum of local history last week at Denman. One day I might join Canowindra's mens' shed but don't yet feel the need.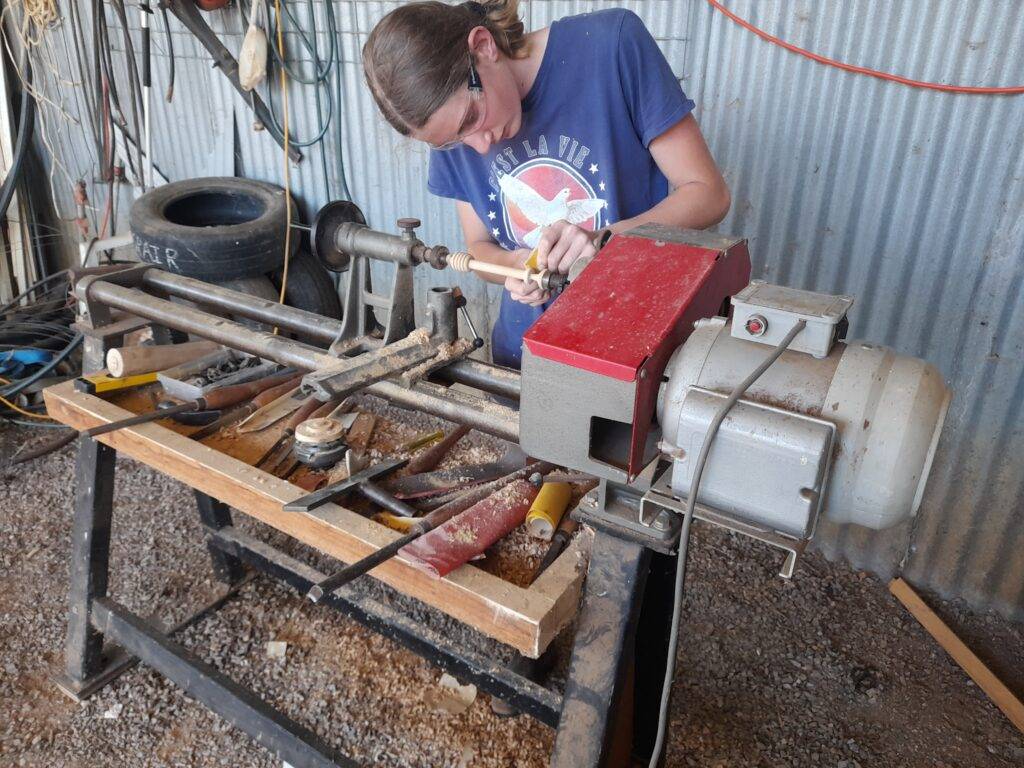 Perhaps as a delayed mid-life chrisis, a year ago I bought myself a new Royal Enfield Interceptor 650 twin cylinder motor cycle, justified by the need to go to town regularly for bread, milk and a cup of coffee and cake at one of Canowindra's several excellent coffee houses. Justified indeed it is. I feel very compatible with that bike. It looks 1950sish, but it has fuel injection, ABS disk brakes and a few other bells and whistles but no windscreen or farings. So in the trade it is known as a "naked bike". It suits me well. It is amazing how connected one feels with the landscape while riding. In different seasons there is the aroma of flowering wattle, Canola, pine and eucalyptus trees and the musty smell of sheep and cattle as transports pass. It reminds me of the shearing shed and sheep yards at Barraba almost 30 years ago.
Probably because my grandfather was a clergyman and my brother a missionary, I have always maintained an interest in the church, at least as an adult. Like many, I was put off as a youngster by compulsory daily chapel services at The Kings School where I was incarcerated as a boarder for five long years. The ageing Chaplain, Revd. "Butch" Baker was a bit of a tyrant, like many of the masters. Dick Eldershaw, a farmer from Wagga Wagga who I used to see at NSW Farmers conferences in Sydney during the '80s wrote a book about his TKS years, observing that most of the masters should have been retired, but because of WW2's manpower demands, there was a drastic shortage of trained younger teachers after the war. With much hindsight now, I think life at that school then was Dickensian.
About fifteen years ago the Bishop of Bathurst, Richard Hurford asked me to join his "Bishop in Council". That is the peak diocesan body in charge of all things spiritual, financial and the all important church property trust. During my three years "keeping the seat warm" as I told the bishop, "for someone better qualified", he replied that the BIC as they call it, needs to have some lay members with their feet on the ground and not too levitated by their knowledge of of church history, theology, politics, governance and administration.
A few years back, I took up pottery lessons once a week with a brilliant local potter Rebecca Dowling. Her studio is between here and Cowra on her husband William Bennett's farm. That was wonderful theraputic experience…..not that I felt a need for therapy. I just like making things. Rebecca, a natural motivational therapist said my work was very good for a newcomer to the craft, especially an older newcomer. My words not hers. I thought my bowls, mugs and platters were very amateurish, as they indeed were, especially after glazes were applied before they entered the kiln. But the transformation in the kiln never ceased to amaze me. The brilliant colours and textures that emerge from those drab looking oxide solutions after firing are stunning. I even sold some peices at the Canowindra Arts Gallery!
Our middle son Nick has lived with his family in Perth for the past 12 years. We miss them terribly and an occasional trip to see them, or their too infrequent visits to NSW don't fill the void. As a well established artisan woodworker he and several others from the eastern states were invited by the WA government, BHP and Wesfarmers to relocate to Perth to join a collective of arts and craft specialists to help lift the profile of the arts in WA. The woodworkers established themselves in the wonderful old pattern makers workshop and foundry at the historic Midland railway workshops.They had some great successes early on but when the shine came of the mining industries and the royalties declined, state and corporate funding of the arts dried up. Happily for us all, they ared come over during the September school holidays and later in the year we might cross the Nullabor again in the old Mercedes Sprinter to spend more time with them.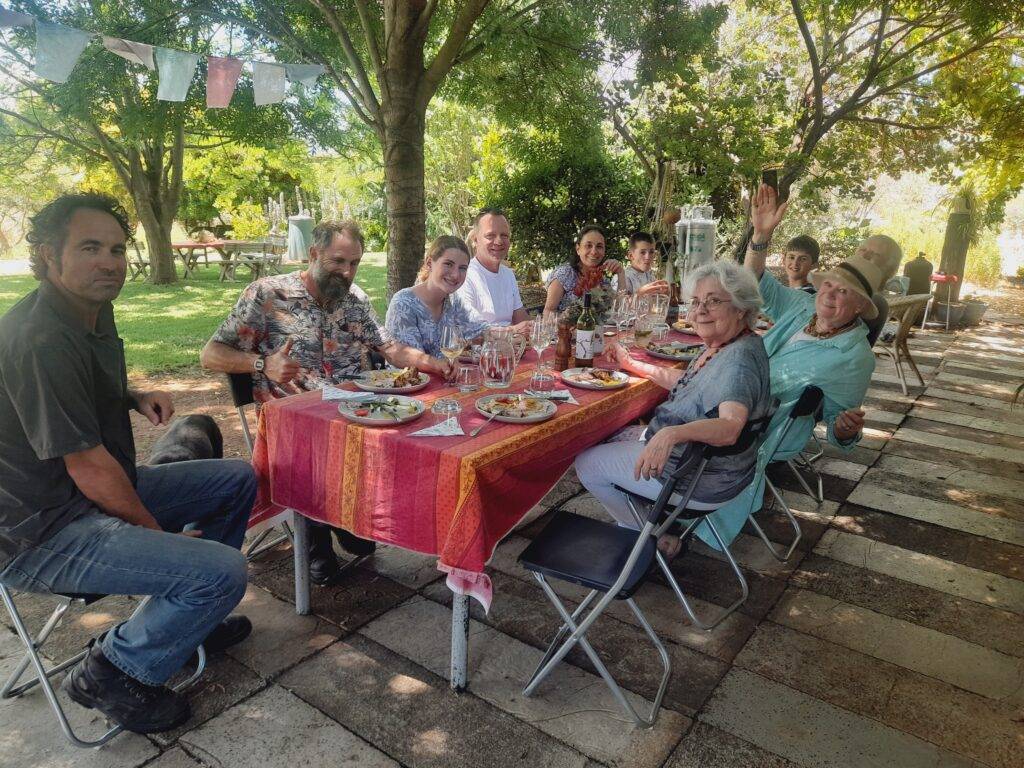 I might conclude this tome by elaborating on Baroquefest, a Canowindra based annual three day springtime festival of baroque music presented by some of Australia's top musicians and ensembles. See www.baroquefest.org.au. Our friend David Miller AM, formerly the director of the ensembles unit at Sydney Conservatorium of Music had brought a group of his young students to play at Canowindra's All Saints Church every year a couple of decades. In 2015 we formed a local committee, now an incorporated not for profit body called Canowindra Fine Music Inc, to develop what has become an iconic inland NSW annual music event. Usually our music director, Andrew Baker, a violinist from Orange musters several well known ensembles including over the years, Omega Ensemble, The Song Company, Australian Haydn Ensemble, Salut Baroque, Camerata Antica, The Muffat Collective and many others. This year, Madeleine Easton's Bach Akademie Australia is doing all five concerts over the three days 29 September to 1 October and it has been sold out on-line a few months in advance. This augers very well for Baroquefest 2024 for which we are in negotiations with The Australian Brandenburg Orchestra to play at this near outback little town. The globe trotting musos love the experience. To date we have received generous financial assistance from Australia Council of the Arts, Creative NSW, The Foundation for Rural and Regional Renewal (FRRR), Cabonne Council, Arts Out West and Orange Regional Arts Foundation. We thank them all for their support which we are confident will give Baroquefest a very bright future.
If you got this far, many thanks for reading!!
"Grandpa"
Richard Statham