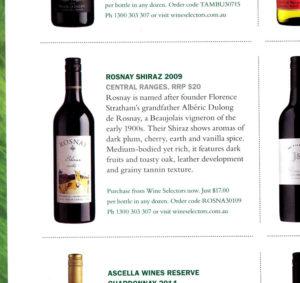 Selector Magazine* has included Rosnay 2009 Shiraz in their list of the 20 Best Organic Wines in Australia, with the following tasting notes:
Youthful medium ruby red in colour, this organic Shiraz offers aromas of ripe black fruits with fresh red cherry lift and prune-like depth. The ripe and soft palate features juicy red fruits in a supple, savoury style, with good juicy appeal and a hint of black pepper to finish.
The article, by Newcastle wine writer Daniel Honan (aka, "The Wine Idealist"), sums up the background and challenges of organic wine growing across many wine regions of Australia, from McLaren Vale to the Hunter Valley, and including Cowra's largest organic wine producer, Windowrie Estate.
Talking about how all wine used to be organic "back in the day", Daniel sums up the modern farming world well:
"All that changed after the Second World War when the scientific boffins who had developed particular products to use in explosives and chemical warfare, by manipulating molecules and rearranging atoms, also discovered that some of these new synthetic chemicals were sometimes less lethal to humans, yet still just as lethal to insects. And so, the agrochemical industry was born."
*Selector is Australia's highest circulating wine and food magazine.