Permaculture provides the framework for an overarching and complex design system for everything in life. Every component of our world and aspect of our lives is in relationship with every other component and aspect and each has multiple functions.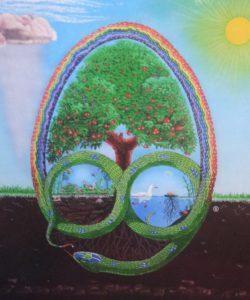 After extensive and thoughtful observation and analysis we can produce Permaculture designs that take account of and plot the components of our lives and environment. Key design elements are drawn from: the landscape; our climate; our dwellings; our infrastructure; our communities; our corporations and our living practises. In Permaculture, individual components are mapped in such an order and alignment so as to produce maximum efficiency and production with the least energy leakage of any type in both the short and long term.
A Permaculture design continually evolves as the elements within it change, so rather than ever arriving at a completed picture, it's something that is dynamic and self-correcting, like nature. Permaculture design systems mimic the patterns of undisturbed nature. For humans it requires thinking forward. The spread and adoption of Permaculture as an underlying reference, and code for how humans conduct their lives provides the most likely assurance that we will continue to enjoyably survive as a species on this earth.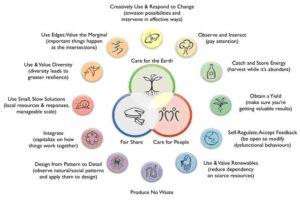 Bill Mollison and David Holmgren founded Permaculture in Tasmania in the late 70's. It has since become arguably Australia's greatest intellectual export with current estimates at 1 million plus practitioners worldwide. We are greening deserts using Permaculture principles, and closer to home certainly you can live more efficiently and enjoyably by simply modifying a few of the ways you have learned to live.
Whether you're a householder, a back yard gardener, a farmer or you run a corporation you can achieve higher production levels and input cost reductions sustainably by applying Permaculture practises. There is plenty of evidence to support this claim. Living ecologically doesn't mean giving everything up, but relearning the value of nature and understanding there are many roads to being wealthy and abundant.
A broader scale adoption of Permaculture principles will provide the way toward a sustainable future for the world, a way of correcting a world that you could say is currently wobbling out of alignment.
If you heard of a proven way you could easily achieve a better life for yourself and contribute to a sustainable future for your descendants and the planet, wouldn't you be interested to at least have look at it. Permaculture definitely provides a way.
---