Intimate Food, Wine and Music at Rosnay

With the sellout success of the Wallington Winery Sunday lunch concert in the last three years, this year Baroquefest is adding a second local Winery Concert to the festival. To be held at Rosnay on Sunday night, this intimate event features medieval inspired dinner by the renowned local chef Tommy Jeffs, with performance of the beautiful music of Vivaldi, Corelli, Geminiani, and Bach on the most popular instrumental combination of the Baroque era –  harpsichord and violin – played by The Muffat Collective.
Time: Sunday 15 October 2017, 5.00pm. Limited seats. Tickets $90, includes wine, dinner and entertainment. This event is included in Gold and Platinum passes.
---
The Muffat Collective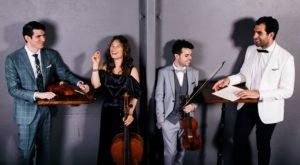 "Enthusiasm, ornament and magnificence" –  Georg Muffat (c.1653-1704)
Featuring four elite graduates from The Royal Conservatoire of The Hague, The Netherlands, The Muffat Collective are a unique group of period instrument specialists, bound by their use of rare baroque instruments and dedication to the historically informed practises of 17th and 18th century chamber music. Having recently returned from The Netherlands, they make Australia their home once more, bringing with them the leading practises and expertise from the most dynamic orchestras and ensemble of central Europe.
The Collective provide a genuine and moving experience in concerts by sharing with you incredibly rare and often newly discovered works by forgotten masters; music that is full of vitality, energy and emotions that speak to us now, as much as they did in the past.
Tommy Jeffs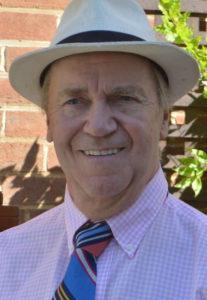 A well-known character in the area, Tommy Jeffs originally grew up in nearby Cowra where his family have long been involved in the hospitality industry. Tommy has led a colourful 40-year career in the fashion, entertainment and hospitality industries. Tommy received an award for the "Best Entertainment Restaurant in Australia" and a "Best Seafood" award during his time in Port Macquarie at Tommy's by The Sea. On returning to the Central West and taking over the Imperial Hotel, Tommy consistently featured in the "Good Food Guide" placing third one year.
Tommy then moved to Canowindra for a change of pace to take over The Deli Lama – a popular eatery in the main before creating Montrose House, the unique B&B and dining venue which has been a labour of love to create a unique place for visitors and locals to celebrate special occasions – including the launch event of Baroquefest 2017. Tommy's generous nature has seen him involved with fundraising throughout his life. Every community he has been involved in has benefited from his ability to raise considerable amounts of money for youth, the arts, health and cancer projects.
"This will be a guaranteed memorable event!" said Tommy Jeffs.
Canowindra Baroquefest
The inaugural Baroquefest, Canowindra's annual three day festival of baroque music was held in  October 2015. Canowindra has become a regional hub for live classical music performance since the 1990s when David Miller AM from Sydney Conservatorium of Music first agreed to bring a group of talented students to play and sing at the acoustically sublime All Saints Church.
What grew to become the Con's week long  "Grand Western Tour" still continues after twenty years. Since Baroquefest's inception and formation of Canowindra Fine Music Inc., the aim has been to bring together highly accomplished  musicians from central west NSW, with other professionals and ensembles from Australia and  elsewhere.  A big ambition for a small town but it is the rural setting and the prevailing community spirit that creates a uniquely  intimate baroque experience. Every concert is introduced by our elegant and articulate patron Marian Arnold, a long term producer and presenter on ABC Classic FM.